Danielle Kousoulis Memorial Scholarship Fund
Danielle graduated from Haddon Twp HS (NJ) in 1989 and went on to Villanova University (PA) where she earned a BS in Economics in 1993. She was involved in several extracurricular activities while at Villanova. She was involved with Villanova Women's Crew, and rowed for four years after never having done so previously. She helped lead her lightweight eight team to many remarkable honors.

Danielle was a kind, caring, and compassionate person.  She always strove for excellence in everything she did and lived her life to the fullest.  She did this in her own quiet way.  She also had the unique ability to focus on the task-at-hand and help others at the same time, either by lending an ear or offering words of encouragement.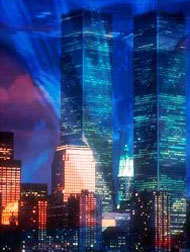 After graduating from Villanova University, Danielle accepted a position at Cantor-Fitzgerald as a bond broker. Always striving to improve herself, she pursued an MBA at NYU's prestigious Stern School of Business with the help of Cantor's tuition assistance program. She earned her MBA in May, 2000. In addition, she fulfilled another dream by running and completing the New York City Marathon in 1999. She eventually achieved the position of Vice-President at Cantor-Fitzgerald.
This scholarship was created to honor Danielle's memory and to continue her spirit of caring and generosity. Each year this scholarship fund awards academic scholarships to deserving high school seniors seeking higher education. Danielle was lost to us on September 11th, but through this scholarship fund we are insuring that she is never forgotten.